Astoria Plus 4 You – Green Espresso Machine
Its design is entirely new with striking dynamic lines, which further enhance its excellent performance in terms of quality in the cup and energy saving. This significant change is a strategic company choice intended to integrate market demands with the success of Plus 4 You technology.
How Plus 4 You helps you to make the perfect espresso:
It has absolutely stable settings under any conditions of use, even under heavy loads.
Precise temperature regulation, maximum 1 °C difference in temperature, provides the constant result of quality in a cup.
Self-diagnostics of errors provides suggestions to the bar person on how to obtain perfect dispensing.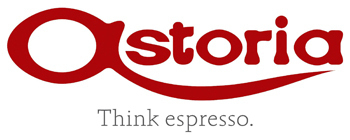 ---
GROUP2
Technical characteristics
• Steam boiler and one coffee water reservoir for each group
• Electronic temperature control of the coffee water reservoir
• Electronic temperature control of the steam boiler
• Electronic temperature control of each group
• Display showing the pressure of volumetric pump
• Display showing the ambient humidity
• Display of water pressure in the hydraulic circuit
• Programming of the washing cycles
Body colour
• Chrome & Carbon-fibre
• Red & Black
• Grey & Black
Technical data
Voltage (V) 230-400/240-415
Rated power (W) 4.400/4.790
Boiler (l/Uk Gal) 3.000/3.270
Width (mm/in) 830/32.7
Depth (mm/in) 580/22.8
Height (mm/in) 575/22.6
Net weight (kg/lbs)
Gross weight (kg/lbs)
---
GROUP 3
Technical characteristics
• Steam boiler and one coffee water reservoir for each group
• Electronic temperature control of the coffee water reservoir
• Electronic temperature control of the steam boiler
• Electronic temperature control of each group
• Display showing the pressure of volumetric pump
• Display showing the ambient humidity
• Display of water pressure in the hydraulic circuit
• Programming of the washing cycles
Body colour
• Chrome & Carbon-fibre
• Red & Black
• Grey & Black
Technical data
Voltage (V) 230-400/240-415
Rated power (W) 5.600/6.100
Boiler (l/Uk Gal) 3.000/3.270
Width (mm/in) 1070/42.1
Depth (mm/in) 580/22.8
Height (mm/in) 575/22.6
Net weight (kg/lbs)
Gross weight (kg/lbs)
---
GROUP 4
Technical characteristics
• Steam boiler and one coffee water reservoir for each group
• Electronic temperature control of the coffee water reservoir
• Electronic temperature control of the steam boiler
• Electronic temperature control of each group
• Display showing the pressure of volumetric pump
• Display showing the ambient humidity
• Display of water pressure in the hydraulic circuit
• Programming of the washing cycles
Body colour
• Chrome & Carbon-fibre
• Red & Black
• Grey & Black
Technical data
Voltage (V) 230-400/240-415
Rated power (W) 7.100/7.730
Boiler (l/Uk Gal) 5.000/5.445
Width (mm/in) 1310/51.8
Depth (mm/in) 580/22.8
Height (mm/in) 575/22.6
Net weight (kg/lbs)
Gross weight (kg/lbs)